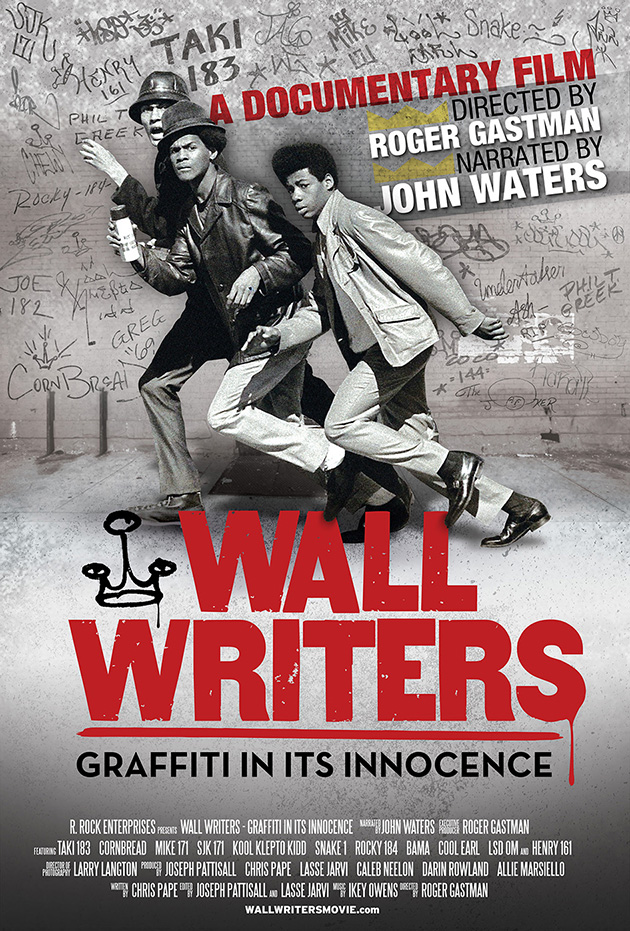 Currently doing the screening circuit, this feels like the graffiti documentary we've been waiting for since Style Wars set the benchmark in 1983. And where many since have done a brilliant job showcasing then 'current' eras in writing, Wall Writers: Graffiti In It's Innocence steps backwards, further exploring the birth of graffiti from 1967 – 1973.
Check the trailer below.
Directed by the legendary Roger Gastman and voiced by John Waters, there's something intangibly genuine and heartfelt in the shooting and purpose of Wall Writers that easily transcends the hours, weeks and days of youtube shorts so commonly associated with graffiti nowadays.
As an added bonus they also launched a book, but looks like that one's currently sold out and only shipping to the US. Here's hoping there's a reprint.
We're stoked to have been invited down to the screening at the end of the month, hosted by the great Mindspray crew. Errol Donald aka Pride of The Chrome Angelz fame is the cat behind it, and they're doing good things.
The screening is happening 28th of October at Central Saint Martin's College in Kings Cross. For full information including the synopsis, time and to book a seat, head over here: http://www.mindspray.co.uk/film-screening-wall-writers-october-2016/
Errol was kind enough to share some stills with us, which you can check out below along with a note from Gastman.
CORNBREAD declares he has retired. 1971
Photo used with permission of Philadelphia Inquirer ©2014. All rights reserved.
Director's Statement

From graffiti's humble beginnings in 1967 to the first painting being sold in 1973, Wall Writers reveals the context of the start of a movement that would eventually grow to transform city life, public transit, public art, and ultimately visual art the world over.
Graffiti has been a part of my life since 1991. When I was just getting into this world as a teenager, I always wondered where it came from and who started it. First, I should define what graffiti is to me: someone writing his or her name over and over in illegal places for the sake of fame. It's worth mentioning that the media termed this 'graffiti,' while the people doing it just called themselves writers. I mean American graffiti, not Egyptian hieroglyphics or political murals. So many people have claimed to be "the first" in the US over the years but when you do the math, it turns out they would have been four years old or something.
BAMA poses in front of his painting "Orange Juice" at the Razor Gallery. 1973
Photo by Herbert Migdoll.
Wall Writers: Graffiti In Its Innocence is my answer to that curiosity. It is an exploration and excavation of the people who started it all, unknowingly launching the biggest art movement of the 20th century, one stroke at a time. Unearthing these writers and telling their stories was a challenge—an obsession, even. The film took seven years of hardcore research and I kept the focus on Philadelphia and New York of the 1960s and 70s. This project and the accompanying book involved tracking down people known only by pen names, piecing together shreds of information like a puzzle and trying to document things that have long been erased–literally. This film is my curation of a form that was widely reviled and largely undocumented.
My goal really was to tell the story of the kids who started this movement—many who had been forgotten or are unknowns to the culture of today. I wanted to give them a voice and their rightful place on the historical timeline.
– Roger Gastman